€ 1782 incl. VAT
€ 1485 excl. VAT
keyboard drawer adjustable in height
keyboard drawer locked in every position
board for the keyboard (steel) only 2mm thick -> maximum space for legs
MDF powder coated surface
ULGDS keyboard drawer system
for heavy master keyboards up to 1495 x 185mm (L x H)
keyboard drawer absolute stable, no vibrations
cable outlets: top and rear
working space: 165 x 70cm
in stock (most of the time)
download KEY 88 facts sheet
nearfield-monitor shelves, steel
19″ Exension Kit: additional 16RUs at the side(s)
customization: length, colors, surfaces (e.g. real wood), floorracks on requet
table plate: 1574 x 700 @ 784mm (L x W x H)
height: 784mm
total: 1650 x 875 x 784cm
pull out length: 350mm
max. keyboard size: 1495 x 400+ x 175 cm (L x W x H)
download KEY 88 facts sheet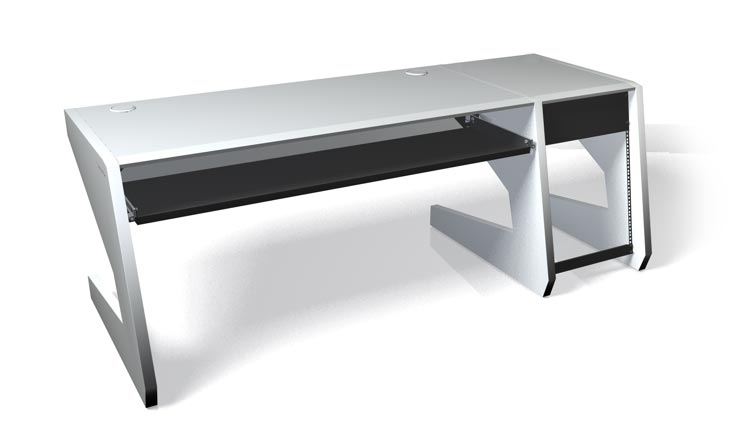 19″ Extension KIT
The KEY 88 can be equipped with a 19″ extension at any time, even retroactively, resulting in an additional 16 HE for devices, electricity, etc. .. And should the space change, the KEY 88 can be built back again at any time.
Background
Increased requests from (film) composers for a keyboard table, which is smaller than the DUODESK KEY 60 – ideally entirely without racks but with lot of work surface and a reasonable keyboard drawer, brought us to develop the KEY 88.
ULGDS Keyboard Drawer
The proven High Tech ULGDS (Unterlass Linear Guides Drawer System) keyboard drawer for large and heavy 88-key master keyboard is also used here. The drawer is adjustable in height, absolutely precise and stable, and locks in any position. So – depending on your application – the keyboard can be pulled out as far as needed.
The board made of steel for the Keyboard is only 2mm thick, which means a maximum of space for the legs, and not wasting space like using 20mm wooden boards.
Adjustable in height
The keyboard drawer is adjustable in height, so it can be set to your specific keyboard without wasting space. The positions are 93, 108, 123, 145, 160 and 175mm.
Materials
The table is made of powder coated MDF. This ensures a durable, scratch and impact resistant surface.
Customization
Changes in size, color, surface (e.g. real wood surface) or floorracks can be one on request.