SINGLEDESK 40
best for mastering and mixing

The UNTERLASS SINGLEDESK 40 is (best for mastering purpose) a masterpiece in terms of ergonomics, acoustic properties, design, modularity and functionality. The SINGLEDESK 40 will be your customers eye-catcher due to its unique UNTERLASS Studio Furniture design.
€ 2232 incl. VAT
€ 1860 excl. VAT
available "A" or "R"
SINGLEDESK 40A = angular shape (legs)
SINGLEDESK 40R = slightly rounded (legs)
black or white
3-way adjustable rear table top
cable channel: outlets back, sides and down
Surface: HPL MDF, black or white satin finish
Open access to the rear panel
40 RU Rackspace
Topracks: 2 x 12 RU
Back: 2 x 8 RU e.g. for power management
Modular expandability (see OPTIONS)
Optional extension kit expands SINGLEDESK 40 by 1 full rack (+20 RU)
nearfield monitor shelves (steel)
extension kit expands SINGLEDESK 40 by 1 full rack (+20 RU)
deluxe: wooden finish (e.g. "zebrano" – or anything else)
black or white
flexi: wider table plate
straight: side racks not angled
Variations
The SINGLEDESK 40 is also available wider or straight for controller integration
wider (flexi)
until +50cm for displays
straight
for controller integration
SINGLEDESK 40A vs. SINGLEDESK 40R
The Singledesk 40 is optionally available with slightly rounded leg shape (R = rounded). In Germany, only SINGLEDESK 40R is available.
Ergonomics
Best for mastering purpose. The overall shape provides for greater free moving space  and allows for optimal accessibility of the devices at lower dimensions in width of the SINGLEDESK 40.
Three-level adjustable
The rear tableplate can be mounted in three different heights, for having screens and other devices such as small cubes in the desired position.
Rackspace
The SINGLEDESK 40 offers a total of 40 rack units of space for your equipment. 2 x 12HEs at the top and additional 2 x 8 RUs at the back for power Management or other devices that are not necessary to be in close reach.
Cable Channel
The SINGLEDESK 40 provides a cable channel located under the table plate which is easily accessible, and offers cable outlets backwards, sideways and downwards.
Metamorphosis meets modularity
The SINGLEDESK 40 is modular in design. By omitting the table top and cable channel, the SINGLEDESK 40 can be transformed into two independent SIDE RACKS, which results into a completely new workingplace for mastering purposes. In addition,  expansion kits can be purchased at any time, which expands the SINGLEDESK 40 by 1 full rack (+20 RU) per kit.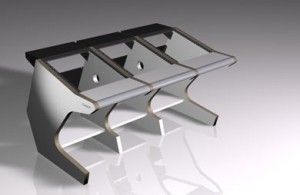 Colors & Finishes
The SINGLEDESK 40 is available in black, white and DELUXE (wooden finish, any combination is possible here).
Expansion Kit (optional)
Expansion Kits will complement the SINGLEDESK 40 for at least one additional siderack (+20 RU per Expansion Kit). The upgrade kit consists of 1 x Inside leg with symmetrical bore holes, 1 x aluminum profile, 1 x small table plate, 1 shelf and all associated rack rails, screws and panels. The extension can be performed at any time and quickly without the need of disassembling the entire SINGLEDESK 40.
Nearfield monitor shelves (optional)
Additional shelves for nearfield monitors  (optional) can be mounted on the side racks to avoid the need of extra monitor stands.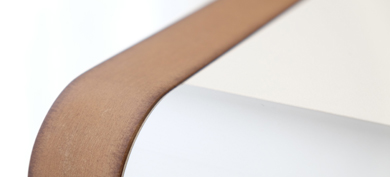 CUSTOM
We are happy to fulfill all desired custom requests from width and angle compilation to – as far as available on the market – finishes and surfaces…